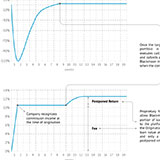 15 MAR '16
Alternative lending has become an important part of the financial landscape. Two major lending business models in this industry are marketplace and balance sheet lending, which mainly differ in the distribution of risk and the amount of return. Composite lending is an emerging model that brings benefits of marketplace lending to balance sheet loan originators. Blackmoon Financial Group offers a composite lending product that combines the benefits of both balance sheet and marketplace lending models.
6 APR '16
This article provides an overview of European marketplaces' origination volumes and distribution of web-traffic since 2014Q1 to 2015Q4.
12 MAR '16
Risk exposure, funding sources, and scalability and are the main differences between the marketplace and balance sheet lending models. By using the composite lending model, loan originators enjoy the benefits of both models.
10 MAR '16
Investors increase portfolio performance and gain competitive advantage by analyzing data about loans to make investment decisions. The sharp growth in marketplace lending has spurred investors to explore new ways to find additional insights behind the raw data, even in non-numerical data that can be difficult to assess.
8 MAR '16
Raising working capital has always been quite a difficult endeavor for a balance sheet lender focused on a non-prime segment. There are several ways to get working capital. For example equity investment is usually bundled with a debt investment. Another source of debt funding is private investment from HNWI. Those companies that scaled enough managed to get a securitized line of credit from a specialized company. The very few floated public bonds.